Planning application
The application for planning permission to build 45 dwellings on land that has been marked for protection as part of the Taff River Corridor has now been submitted to Cardiff Council. Details of the planning application can be viewed online here. You can access the relevant documents from the Documents tab on that page, and also register an objection to the proposal by adding a comment. To do this you first have to register with the council's portal and log in with your username. More details of how to register your objection, and when this must be done by, will be added to this site as soon as the relevant information has been shared by the council.
In addition to submitting your own objection to the planning application, please also sign the petition. You can do this online here, or you can sign a paper copy of the petition at Danescourt Post Office. You can also download a copy of the petition to print out and once you have collected signatures from friends and neighbours, hand it in at the Danescourt Post Office.
Cardiff Local Development Plan
Whilst the adopted Local Development Plan is itself a controversial document, it is the council's formally adopted plan, and it states that the River Corridors "possess high recreational, biodiversity, historic, cultural and landscape value". They will be "protected, promoted and enhanced, together with facilitating sustainable access and recreation". The land on which the proposed housing estate will be built is clearly marked as part of the Taff River Corridor to be protected: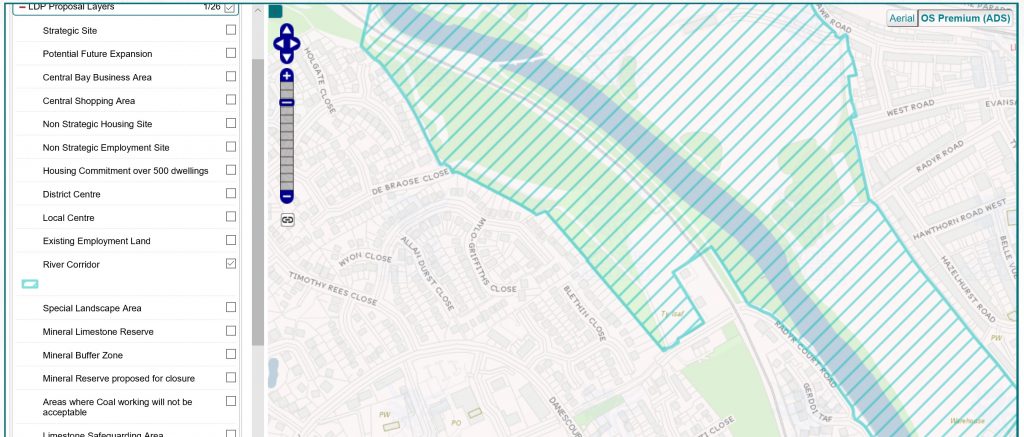 You can download the adopted LDP and associated maps here.
Trees
A significant part of the woodland that would be destroyed by the development is protected with Tree Preservation Orders. This map shows the protected area marked in green: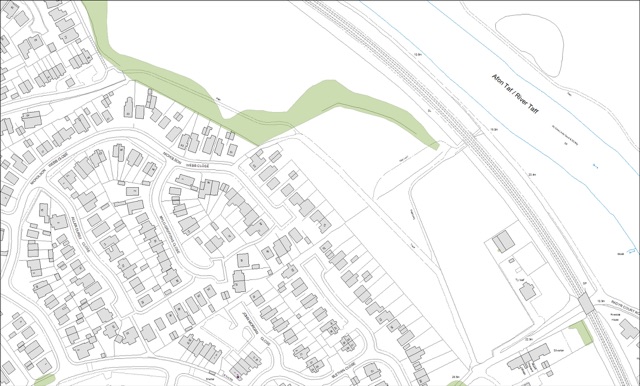 Previous Planning Decisions
This land has had planning applications rejected in 2005 and 2014. On both occasions the council's planning department turned down the applications. Both decisions were appealed against by the developers, and each time the Inspector rejected the appeal.
In the first case, the Inspector concluded that:
"It is evident that the area of open space, within which the site lies, is valued by local residents because it is an easily accessible area that has retained, to a significant extent, a rural character, and which also contributes to the enjoyment of recreational users who appreciate its role as part of a larger area of open space….further development would erode the present balance between the natural environment and the built form."
You can read his decision here.
The more recent appeal, in 2014, focused on the difficulty of vehicular access to and from the site along Radyr Court Road. You can read the Inspector's decision here.