Planning application
At the moment, no planning application has been submitted to Cardiff Council. A pre-application consultation was conducted by PMG PLC on behalf of the landowners in 2018, but this did not result in any planning application being submitted.
Now the same consultant has submitted revised plans on behalf of the Taff Housing Association for 45 social housing dwellings on the same site. Very little of the original plan has changed, with vehicle access via De Braose Close, and minimal provision for car parking for tenants or their visitors. A small part of the woodland to the north will be retained, though this will be bisected by the access road leading from De Braose Close to the houses, which are expected to provide homes 182 residents.
A new pre-application consultation has been initiated, and you are invited to send your views to the development consultant. If you object to this proposed development, we recommend that you send a short email confirming your objections and briefly explaining why you object (which might be on traffic, road safety or environmental grounds). A more detailed consultation will be initiated by Cardiff Council if a formal planning application is submitted, and at that stage we will have opportunities to register detailed objections for consideration by council officers and the council's Planning Committee.
You should send your brief objection by email to pip [at] pipcole [dot] co [dot] uk
or by post to: Philippa Cole, 14 Ty Gwyn Crescent, Cardiff CF23 5JL
We also recommend sending a copy of your objection to the Taff Housing Association by email to info [at] taffhousing [dot] co [dot] uk or by post to: Taff Housing Association, Alexandra House, 307-315 Cowbridge Road East, Canton, Cardiff CF51JD
As soon as the application has been submitted it will be made publicly available on the city's web site. We will publish a link to that site here.
Cardiff Local Development Plan
Whilst the adopted Local Development Plan is itself a controversial document, it is the council's formally adopted plan, and it states that the River Corridors "possess high recreational, biodiversity, historic, cultural and landscape value". They will be "protected, promoted and enhanced, together with facilitating sustainable access and recreation". The land on which the proposed housing estate will be built is clearly marked as part of the Taff River Corridor to be protected: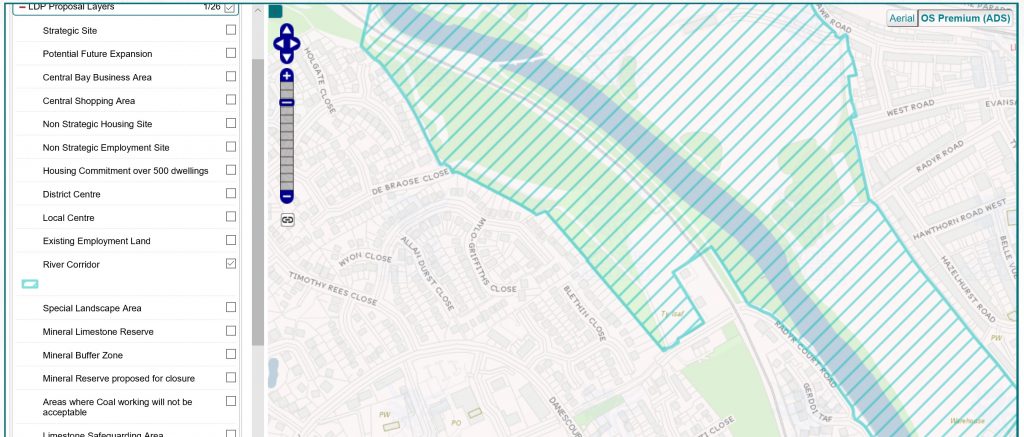 You can download the adopted LDP and associated maps here.
Trees
A significant part of the woodland that would be destroyed by the development is protected with Tree Preservation Orders. This map shows the protected area marked in green: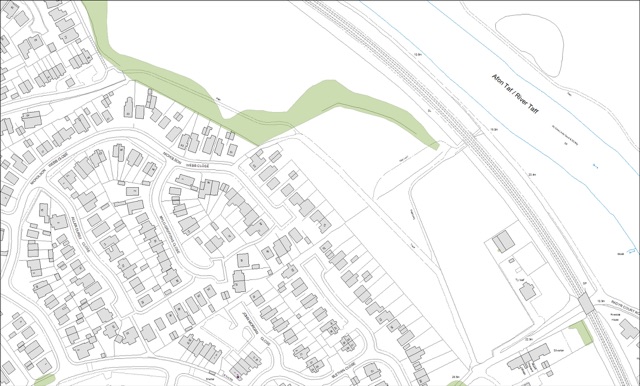 Previous Planning Decisions
This land has had planning applications rejected in 2005 and 2014. On both occasions the council's planning department turned down the applications. Both decisions were appealed against by the developers, and each time the Inspector rejected the appeal.
In the first case, the Inspector concluded that:
"It is evident that the area of open space, within which the site lies, is valued by local residents because it is an easily accessible area that has retained, to a significant extent, a rural character, and which also contributes to the enjoyment of recreational users who appreciate its role as part of a larger area of open space….further development would erode the present balance between the natural environment and the built form."
You can read his decision here.
The more recent appeal, in 2014, focused on the difficulty of vehicular access to and from the site along Radyr Court Road. You can read the Inspector's decision here.